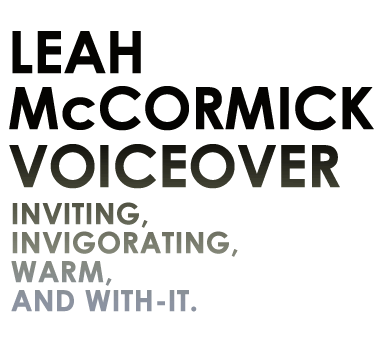 COMMERCIAL COACHING
A little ART + a little TECHNIQUE = a whole lot of SUCCESS.
Whether you have been auditioning for a long time or are new to the commercial game, having a fresh pair of eyes or ears on your work is always helpful. I believe in the power of creative collaboration. Together, we can find your most creative and confident self. Whether behind the microphone or in front of the camera, I want to help you shine. My hope is to give you the tools you need to secure more fulfilling and rewarding work. When you win, I win!
How can I help? Do you get a sense of panic when an audition comes your way because you don't know where to start? What you need is a simple roadmap to take you from uncertainty to specificity. Commercial copy has a definable structure. With a background and education in marketing, I can help you understand what the advertisers are trying to convey. As a trained actress, I can show you how to craft the creative choices that allow you to connect with the copy and help you book the job.
As a voice talent, I have been cast in 1,000's of TV and radio commercials. My voice can also be heard as the live announcer for multiple award shows, as various characters in video games and interactive content and more! My broadcast quality voiceover studio is available for clients who book an in-person, hour-long coaching session.
As an on-camera actress, I have starred in dozens of national television commercials. From spokesperson work, to comedy driven spots opposite celebrity talent, I can help show you what it takes to stand out in the audition room. My self-tape loft with professional lighting, sound and choice of backdrop is available for clients who book an in-person, hour-long coaching session.
Not only do I love coaching others, but I strive for growth and excellence in my own work. I've got coaches too. My motto? "Never stop learning. Build that toolbox baby."
Voiceover & On-Camera Coaching Pricing
$150 for 60 minutes – offered online or in-person. (Audio or video recording offered for in-person sessions only.)
$75 for 30 minutes – online only.
Payment Options
Payments accepted via PayPal once date and time are selected from current calendar offering.
All sales are final. If rescheduling, your payment will be applied to your next coaching session.
Cancellations must be made no later than 24 hours from the time of your coaching session to reserve the option to reschedule.
Connection Options
Remote Sessions are offered via Zoom, Skype, Phone Patch or Source Connect.
In-person sessions are located in Sherman Oaks, CA. (Covid guidelines in place.)
Curriculum
Commercial copy can be provided or feel free to bring your own. All coaching clients receive my Commercial Breakdown Cheat Sheet.
Interested in Live Announce, Promos, Animation or Commercial Narration? I'm happy to help you with any area of voiceover that you are passionate about.
I've proudly built a business working with agents all over the US and clients all over the world. Career coaching is also available for both on-camera and voiceover clients.
Still have questions or not sure where to start? Don't be shy! Say hello and let's see if we would be a good fit:
Coaching Inquiries: coaching@leahmccormick.com